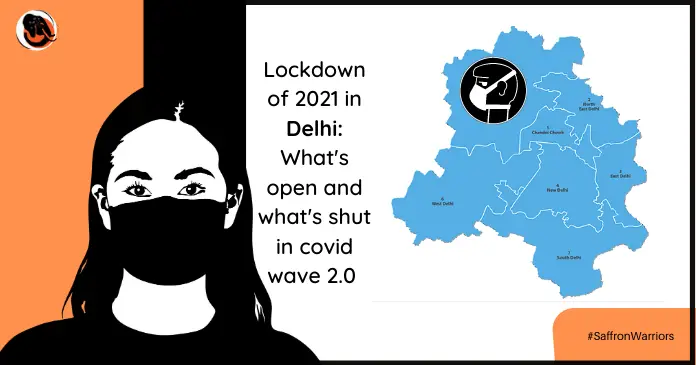 Lockdown of 2021 in Delhi: What's open and what's shut in covid wave 2.0
Delhi Covid-19 lockdown 2021 : Amidst worsening Covid-19 situation in Delhi, the delhi government has imposed a complete lockdown in the national capital from Monday night. The restrictions will remain in place till next Monday morning (April 26). The decision was taken during a meeting attended by Kejriwal, L-G Anil Baijal and other officials. The government has, however, exempted essential services during the lockdown period. All private and government offices have been asked to work remotely.
Delhi to be under a 7-day lockdown from today onward as No other options again to break the covid chain . India has reported 2,73,810 new COVID19 cases, 1,619 fatalities and 1,44,178 discharges in the last 24 hours and cases are increasing only.
"I appeal to Delhiites to follow lockdown which is necessary to reduce COVID cases and to break covid chain; we will improve health system during this time," said arvind Kejriwal.
दिल्ली के सभी नागरिकों से मेरी अपील है कि इस लॉकडाउन का पूरे अनुशासन के साथ पालन करें, ये फ़ैसला हमने आप लोगों की सुरक्षा के लिए ही लिया है। मुझे पूरी उम्मीद है कि पिछली हर बार की तरह इस बार भी आप मेरा साथ ज़रुर देंगे। हम मिलकर इस स्थिति का मुकाबला करेंगे और ज़रुर जीतेंगे। pic.twitter.com/J6cBYkg0bz

— Arvind Kejriwal (@ArvindKejriwal) April 19, 2021
Complete Lockdown in Delhi from tonight; ICMR says higher oxygen demand everywhere in 2nd wave
Higher requirement of oxygen was found in this wave 2.0. There is no difference in the percent of death between the first wave and second wave from the data we have, says ICMR DG Dr. Balram Bhargava to (ANI)
Delhi lockdown: Full list of persons allowed to move
Officers / officials of Government of India, its autonomous / subordinate offices and Pais, on production of valid I card and as per the restrictions imposed by Government of India only ,

b) Offices of GNCT of Delhi/Autonomous Bodies/Corporations shall remain closed except those involved in essential and emergency services such as Health and Family Welfare and all related medical establishments, Police, Prisons, Home Guards, Civil Defence, Fire and emergency Services, District Administration, Pay & Account Office, Services, GAD, Electricity, Water and Sanitation, Public Transport (Air / Railways / Delhi Metro / Buses) including all incidental services / activities that are essential for smooth functioning of all modes of public transport ( such as handling of cargo, ticketing, air freight station, CFS, lCD etc.), Disaster Management and related services, NIC, NCC and Municipal services, and all other essential services. All Heads of Department of GNCTD shall attend their offices and may also call their relevant officers/officials in office as per requirement with regard to delivery of essential services / activities as well as COVI❑-19 related works. The uninterrupted delivery of public services shall be ensured by the concerned departments / agencies. These officers / officials shall be allowed; on production of valid I card only. 

All Judicial officers / officials /staff members of all courts of Delhi (Hon'ble Supreme Court of India / Hon'ble High Court of Delhi / District Courts / Tribunals) on production of valid I card / Service ID Card / Photo Entry Passes / Permission Letters issued by the court administration only,  
      Source: Govt of Delhi
Also read : https://saffronumbrella.com/delhi-night-curfew-rules-amid-covid-surge/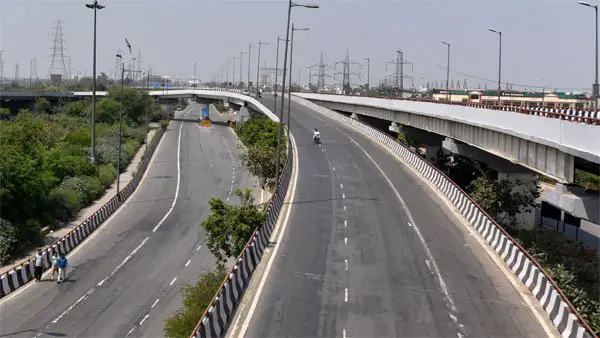 Delhi Lockdown: What's allowed and what's not
Ration shops, fruit and vegetable shops, milk and meat shops will be open, 

Medical Store, News Paper Hawker open,

 Banks, ATMs, Insurance Offices, SEBI Offices open

Telecom, Internet services, cable service open

Delivery of essential goods open

Petrol Pump, CNG Pump, Gas Agency open

Private security service open

Essential services will only operate  open

Units producing essential commodities open

Restaurant Delivery open

Supply of water and electricity open

Religious places will remain open but devotees are not allowed to go. 

Malls, gyms, spas, auditoriums will remain closed 

The restaurants will not be allowed dine-in facility

People attending weddings in the state to be given e-passes to facilitate movement. Only 50 people will be allowed  

 No restriction on people traveling to railway stations, airport now 

Enforcement of COVID norms will be strictly implemented in public places
saffron umbrella urge you to strictly follow lockdown to save live of not only yours but also others. wear mask and stay at home to avoid to come into contact of covid 19.