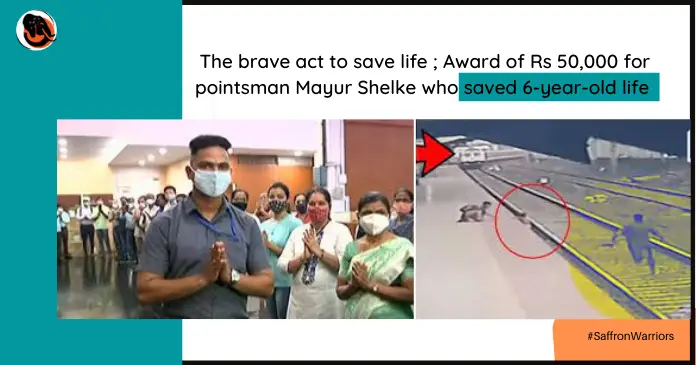 Award of Rs 50,000 for pointsman Mayur Shelke who saved 6-year-old life
Courage is not the absence of fear. Courageous people do also feel fear, but they are able to manage and overcome their fear so that it does not stop them taking action. They often use the fear to ensure that they are not overly confident and that they take the appropriate actions and the same thing happened to Mayur Shelke who saved 6-year-old life from railway track. 
Recognising the heroic act of railway pointsman Mayur Shelke for saving life of a child at the Vangani station, today the Ministry of Railways announced an award of Rs 50,000 for the railway official. The staff of Central Railway honoured Shelke's efforts and felicitated him for inspiring so many people with his heroic act. 
Hon'ble Minister Shri @PiyushGoyal announced an award of Rs 50000/- to Shri Mayur Shelke, Pointsman, Vangani Station for the act of bravery, courage & presence of mind on duty.
He saved a life of a child who accidentally fell on the track.

Congratulations to Shri M. Shelke pic.twitter.com/KOD78oZH9R

— Ministry of Railways (@RailMinIndia) April 20, 2021
The CCTV footage of the incident at platform number 2 of the Vangani station, 90km away from Mumbai, on April 17 at about 18.25 hrs shows Mayur Shelke running on the railway tracks towards the boy even as a train was just a few feet away. from both of them . Mayur Sakharam Shelke, while performing his regular duty at Vangani station on Mumbai Division of Central Railway saw a child fallen on the track and trying to climb up on platform at earliest. The child was so small that he was unable to climb the height of platform on his own. At same time Train No. 01302 Up (Udyan Express) was approaching on the same track speedily towards the kid .
परिस्थितियां जो भी हों, हमारे रेलकर्मी अपना दायित्व निभाने में हमेशा आगे रहे हैं।

इसका उदाहरण पेश करते हुए मुंबई के वांगणी स्टेशन पर रेलवेमैन मयूर शिल्के ने एक बालक को ट्रेन की चपेट में आने से बचाया।

रेल परिवार को उन पर गर्व है। उनकी इस बहादुरी के लिये उन्हें पुरस्कृत किया गया। pic.twitter.com/Ky5jPF8Sn7

— Piyush Goyal (@PiyushGoyal) April 20, 2021
Mayur Shelke, immediately swung into action , run so fast and jumped on the track and ran towards the child as fast he could. He lifted the child and pushed him on the platform and then he himself climbed on the platform just in a fraction of second recorded into cctv. Thus his timely approach and presence of mind saved the life of a child.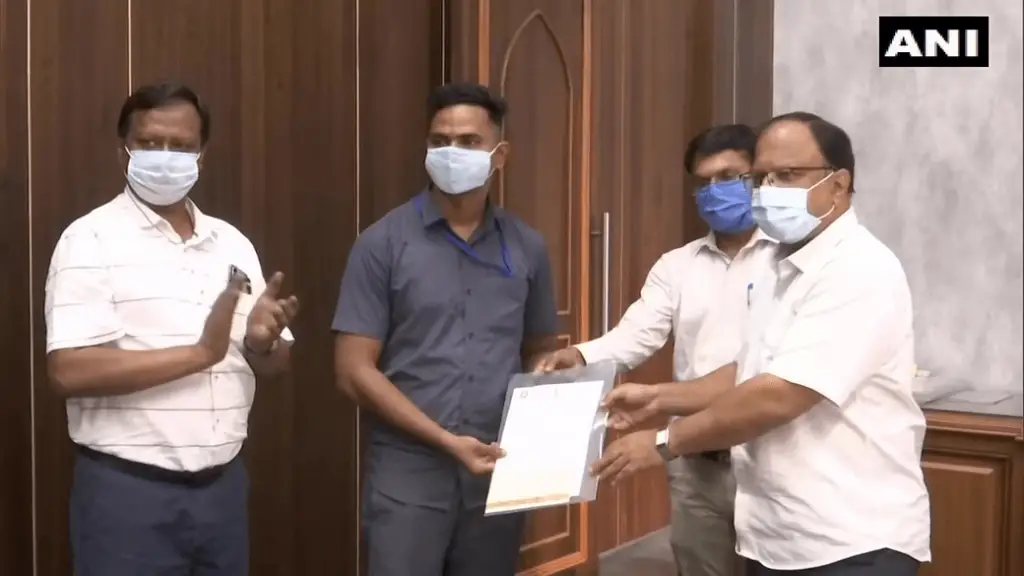 Mayur Shelke said, "The woman with the child was visually impaired and she was not aware how it happened . She could do nothing so I ran towards the child but also thought that I might be in danger too and meanwhile i had to make a decision anyhow. Still, I thought I should save him." "The woman was very emotional and thanked me a lot, Union Minister Piyush Goyal also called me up," added Shelke and am happy i saved the kid life. .
The video was posted by the Ministry of Railways with the caption at facebook – "A Good Samaritan: At Vangani station of Central Railway, Pointsman Mr. Mayur Shelkhe saved the life of a child just in the nick of the time. He risked his life to save the life of the child. We salute his exemplary courage & utmost devotion to the duty (sic)."
Minister of Railways Piyush Goyal also took to Twitter and applauded Shelke. He also said that his work cannot be compared to any prize or money here , but he will be rewarded for inspiring humanity with his work and more people will be inspired .
Also read : https://saffronumbrella.com/from-watchman-to-iim-professor-ranjith/
Shri Sanjeev Mittal, General Manager, Central Railway, Shri Shalabh Goel, Divisional Railway Manager of Mumbai Division and others also appreciated Shelke for his courageous act and happy railway has such heroic staff. 
Shelke is working as a point man at Karjat for five years, eight months back only he was shifted to Vangani .
Saffron umbrella salute efforts of shelke for saving a life.