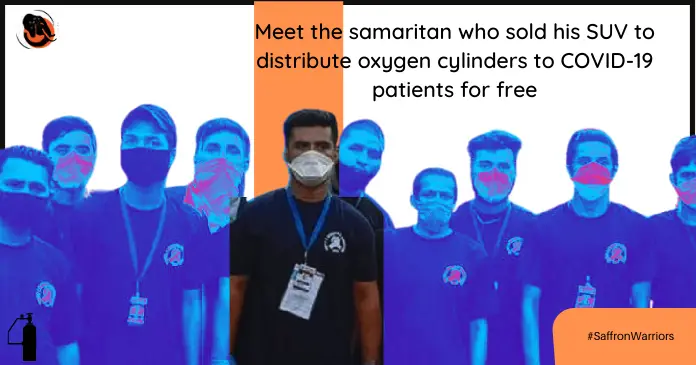 Mumbai city : At a time when the country is facing an urgent shortage of oxygen through out the nation at this time of coronavirus pandemic and patients are dying due to lack of it in hospitals from past few days, a  Samaritan of Malad, Mumbai, has become a savior for the people in the locality. Popularly known as 'Oxygen Man', Shahnawaz Sheikh is working in the locality to deliver oxygen to patients on a phone call. His team has also set up a 'control room' so that people do not have problems in receiving oxygen at this time of crisis as soon they receive the request. 
Shahnawaz Shaikh's madness for car is on another level . When he bought a brand-new Ford Endeavour car back in 2011, he spent his additional money to get a special number plate – 007, as well as a customized music system into his car.
When the novel coronavirus started spreading in India, Shaikh began using his vehicle as a makeshift ambulance and he saved many lives. Meanwhile on May 28 last year, his business partner's six-month pregnant sister passed away due to coronavirus in an auto-rickshaw just when she was about to reach the hospital .
According to News18 media , the said woman was taken to five different hospitals that day, only to be turned down by each one of them due to a shortage of beds or ventilators system.  When Shaikh got to know that the woman could have been saved had she received oxygen on time properly , Shaikh sold his car to buy oxygen cylinders for covid patients those are helpless and he started helping people.
  He did not want another life to be lost because of the same reason or such reasons. He wanted to provide a lifeline for individuals with breathing difficulties atleast that can give them more time for better treatment.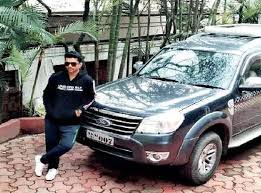 Compassionate  about helping patients at this critical time, Shahnawaz said he has sold his Rs 22 lakh SUV vehicle  a few days ago only to help the people in the locality.
With the money he got after selling his Ford Endeavor, Shahnawaz bought 160 oxygen cylinders to provide to the needies and they are getting help. Shahnawaz said that last year he had run out of money while helping the poor so he had to sell his car and keep saving the lives of people at this crucial time.
To provide timely help to the people around, Shahnawaz has also issued a helpline number and has set up a control room where his team mates are taking care of all the request reaching them.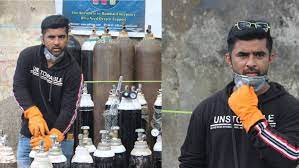 Starting of June 5, he began handing out oxygen cylinders for free, and so far, he has distributed to more than 250 families with COVID-19 patients oxygen cylinders. "A friend of mine helped me contact a manufacturer who makes oxygen cylinders nearby. They were touched to support us when I told them I wanted to buy cylinders and give them away for free to help people. So now, whoever needs a cylinder comes to us with a recommendation, including prescribed oxygen levels, from a doctor and picks it up from us directly without delay," Shaikh told Mumbai Mirror media.
Also read : https://saffronumbrella.com/pointsman-mayur-shelke-who-saved-6-year-old-life/
shahnawaz further said that the condition this time in comparison to last year is not as same where in January, he received 50 calls for oxygen on average , and at present 550 to 600 phone calls are coming every day and from various places now.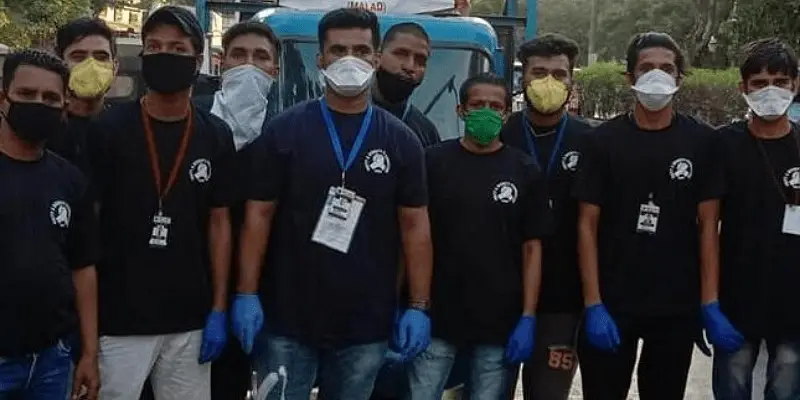 His team members, who have helped more than 4000 people continuously , explain to the patients with proper demo how to use the cylinders. After use, most of the patients deliver empty cylinders to their control rooms from their own .  According to Shahnawaz, they have reached out to more than 4000 people since last year and numbers are growing. 
Also read  : https://saffronumbrella.com/from-watchman-to-iim-professor-ranjith/
Only in certain unusual scenarios, for instance, when the entire family is quarantined and covid postive, Shaikh and his team take up the responsibility of delivering with safety.  Additionally, with the assistance from Dr Sabauddin Shaikh of Care Hospital, he has put together a demo video to guide people on how to use the cylinder properly.  
Shahnawaz is one of the many such coronavirus warriors world wide who have been fighting the pandemic and trying to provide the life-breathing supply to people. Patna's Gaurav Rai has so far saved the lives of more than 950 coronavirus patients by providing them with oxygen cylinders at their homes directly. Carrying oxygen cylinders in his small WagonR car, Gaurav starts his day as early as 5 am and many days it continues beyond mid-night, zooming from one colony to the other, driving his car himself and installing cylinders for the patients who are home-quarantined due to Covid-19and cant go outside.
Gaurav is continuing this from the last one year without a single day break stretching his own wills without charging anything to people.  
Saffrom umbrella salutes such people .