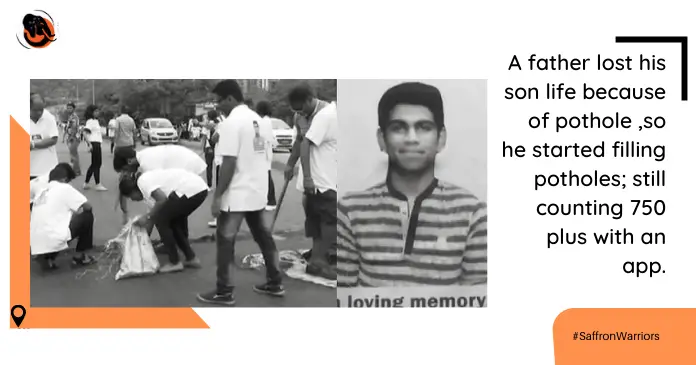 A father lost his son life because of pothole, so he started filling potholes; still counting 750 plus
In 2015, Dadarao Bhillore , a vegetable vendor family, had lost his son Prakash Bhillore at early young age to a pothole accident. He was seating behind his cousin on a two-wheeler when the front wheel of the motorbike fell into a pothole directly and Prakash was thrown off the bike and eventually died of a brain hemorrhage after the accident.
In Mumbai, there has been a 150 per cent increase in road accidents during 2014-2019 only. As per the data, the number of potholes reported was 7,775 between 2009-2014, rising to 19,957 in 2014-2019 and much more in 2020.
"I don't want people to face the same fate as my son faced, Prakash. I will keep working till India becomes pothole-free and we will ensure no one dies anymore because of potholes.
Our nation has a huge population. If even one lakh people all around start filling potholes, India will become pothole-free easily. I am tired, but I will not stop until my last breathe."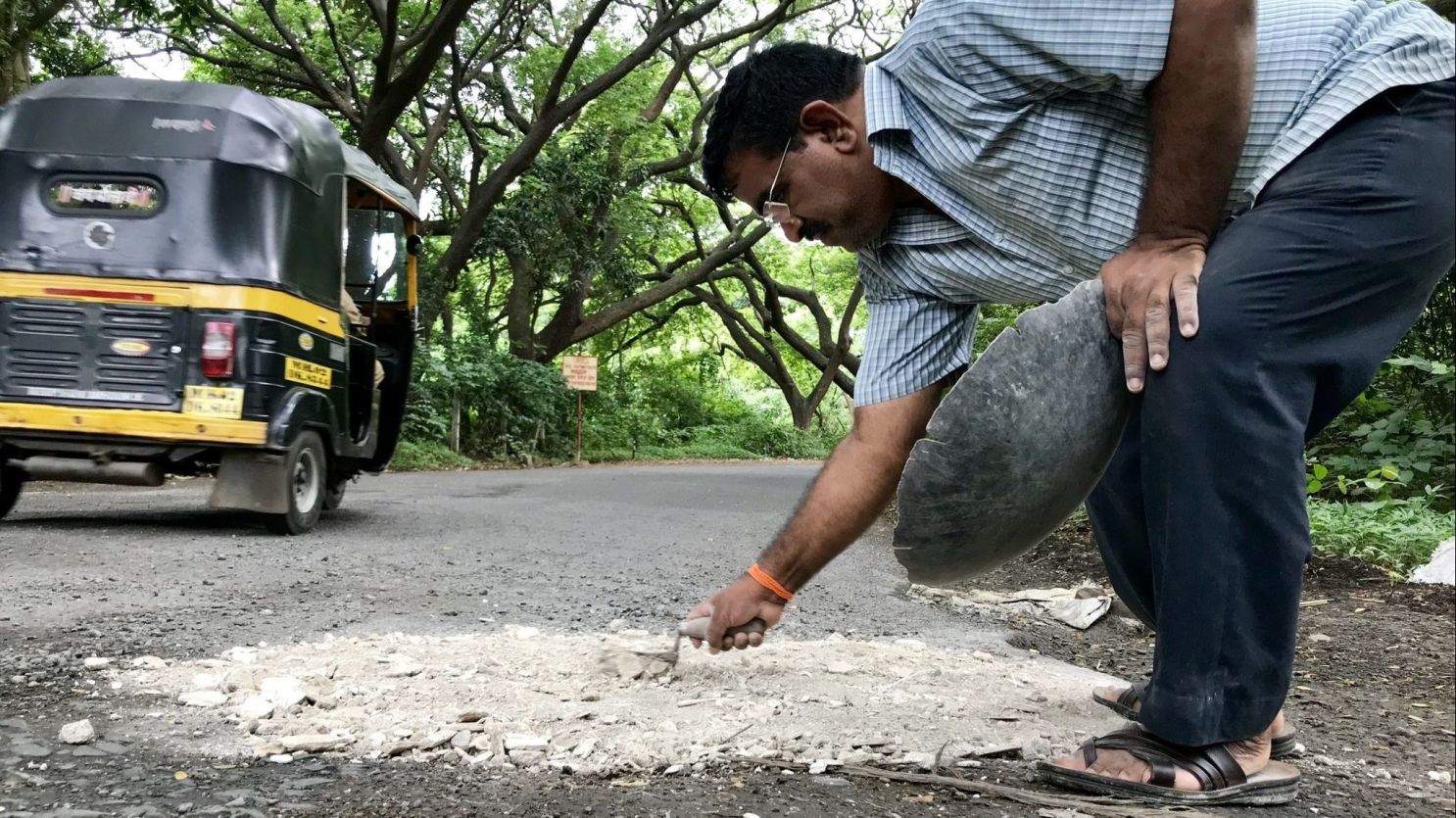 What causes potholes?
The reasons are the same all around. "Due to the stress of heavy vehicles the road pieces weaken up," said a municipal civil engineer. "The first layer of the pavement breaks up is known as 'hen-house wire damage'. As the layers weaken, stone pieces come to the surface which gets carried away by vehicles, leaving potholes behind".
The wear and tear of the road happens mainly due to the poor quality of materials used again number of reasons is here, heavy rainfall which washes away the topsoil, and increased traffic. "There is no city planning in India," said Dadarao Bilhore, who is actively involved in highlighting the dangers posed by the potholes now. "There is no proper drainage system, roads are so much narrow, haphazard dumping on the roads etc all take a toll on the overall infrastructure in nation".
Also read : https://saffronumbrella.com/wearing-an-oxygen-mask-for-environmental-protection/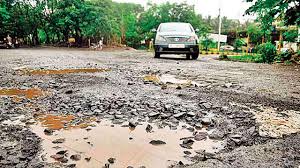 Generally, engineers use a combination of cold and hot mix of minerals to fill the potholes. "Cold mix, ready made and easily available, is a mix of unheated mineral aggregate banded together by bitumen," said the civil engineer, "while the hot mix is composed of 95 percent minerals, gravel and sand bound together using asphalt and crude oil together.
An NGO, Watchdog Foundation staged a protest against Ajoy Mehta, Commissioner of Brihanmumbai Municipal Corporation (BMC) over the issue of pothole riddle streets in the city, say "We demand this street be named after Ajoy Mehta so that development takes place". #Maharashtra pic.twitter.com/KemLksHJbC

— ANI (@ANI) July 18, 2018
Cold mixes is mostly used to fix the pothole as it requires little effort and is comparatively cheap and require less efforts, but it is only useful for roads with light traffic loads. Also, it erodes easily upon rainfall. It is like a do-it-yourself mixture. Using hot mix requires digging up the pothole and cleaning it and then filled properly all around. Its longitivity increases," .
Since then, the 48-year-old Dadarao has been repairing potholes voluntarily to ensure no other father has to lose his son anymore.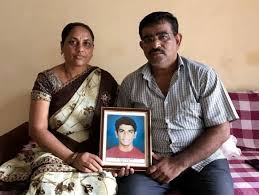 Dadarao welcomed the decision of the expert committee assisting the Supreme Court to hold the road owning agency or contractor criminally or financially liable for the deaths due to potholes now. "I have been filling up potholes for the past five years. While the state of roads has improved after the BMC stopped using paver blocks now, there are still some roads made up of 6-inch of asphalt on paver blocks. Those roads are vulnerable to potholes. If the BMC would have taken the pothole menace seriously some years ago, many more lives could be saved easily," Bhillore to media.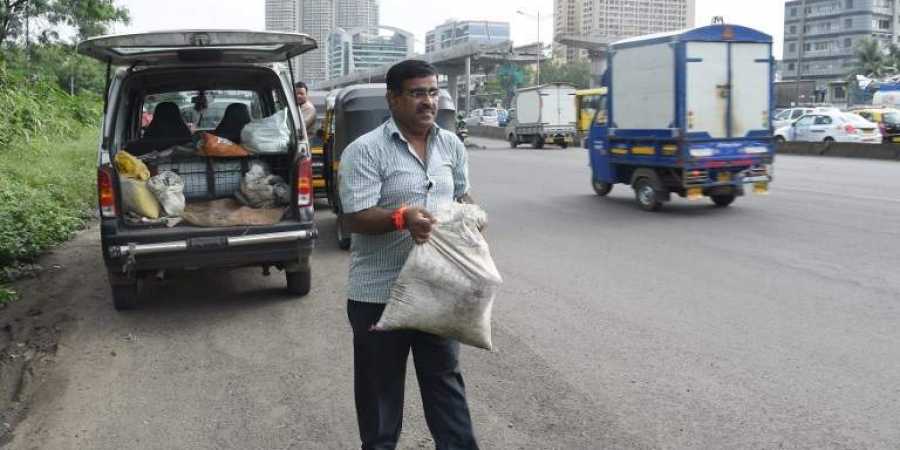 Following this incident many activists had come together to ensure Dadarao's family gets justice anyhow. But, that BMC allegedly tried to shrug off its responsibility and blamed a junior worker in the civic body for it and the matter disappeared but a family lost his son in this accident.
"The road contractor fled away. The civic body has to take accountability of such incidents but they don't. We even approached the lokayukta authority. Some people filed cases against the BMC as it is the service provider and they allocate the tenders, but the courts rejected that claim. So we welcome the SC committee decision to hold the agency and contractors responsible for such accidents," said Godfrey Pimenta of Watchdog Foundation.
About Spothole app 
The 48-year-old has also created a mobile app called Spothole, which takes the help of fellow citizens to together locate potholes and resolve the issue in most easy way. He added that most of the times they use mud, debris and paver blocks found at the construction sites that is easily available.
Speaking about the app to media, he said, "The app uses only three basic features already available in all the smartphones — mobile camera, GPS, and internet availability and enables citizens to accomplish half the job by distributing power and much-needed responsibility. The first step to fix a pothole is to mark it whole. Spot holes help you point out the pothole to the BMC who can then take cognizance of those."
According to a nation-wide survey, 10 people died due to potholes every day and still government is not so serious about it. Amid the apathy, the story of Dadarao Bilhore stands out as an example of how even one man can make a difference in the society.